Baobian Electric's first high-end converter transformer for Qingnan converter station entered the key process
On March 31, Qinghai Satellite TV broadcasted a report on the assembly of the first high-end converter transformer for ± 800 kV Qingnan converter substation into the key process. The video introduces that "± 800 kV Qingyu UHV DC transmission project is the first UHV channel built specifically for clean energy evacuation in China or even the whole world". This is an extremely honored and proud thing for Qinbian employees.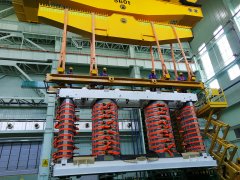 In order to complete the manufacturing tasks of products with high quality, under the guidance of Baobian Electric, Qinbian Company attaches great importance to it, and actively coordinates the related matters of the resumption of production against the Qinghai project after the Spring Festival. After determining the start date, it organizes personnel to Qinghai as soon as possible. In production, the party members charged forward in work, leading the employees to overcome the difficulties of high-altitude production, unacceptable soil and water, and tight personnel, ensuring the smooth production of products. At present, the first ± 800kV product in the Qinghai maintenance base has entered the winding assembly process. Qinbian employees are intensively carrying out a series of operations such as product placement and clamps lifting etc. The first ± 800kV product coil has also arrived at the Qinghai site, and all works are proceeding in an orderly manner.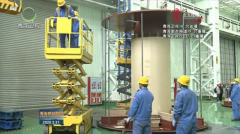 In 2020, Qinbian will further improve the management mechanism, scientifically schedule production, strictly control product quality and improve labor efficiency, and ensure high-quality completion of the "Qinghai Project", "Yazhong-Jiangxi" converter substation project, Udongde, Baihetan Hydropower and other main products manufacturing tasks, submit a satisfactory answer to the user.