Baobian Electric's first converter transformer for "Qing-Yu"UHV project Qinghai section was installed in place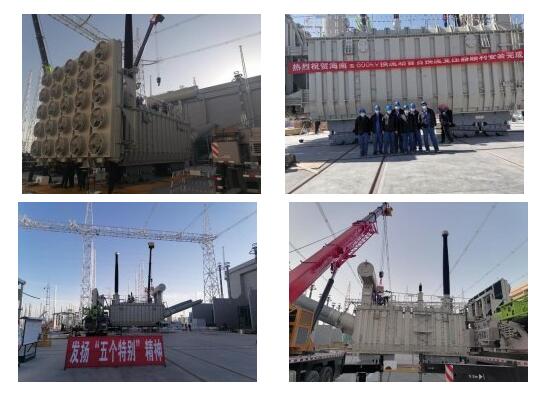 The first super giant ± 400kV low-end converter transformer made by Baobian Electric for the Qingnan converter station of the "Qing-Yu" UHV DC project was installed in place at Hainan Tibetan Autonomous Prefecture of Qinghai Province on April 27, marking the winning of the first battle of the installation of the main equipment of Baobian Electric for Qinghai-Henan ± 800 kV UHV DC transmission line project.
The first low-end converter transformer of ± 400 kV has a rated capacity of 415 MVA, length, width and height is of 12.7 meters, 3.49 meters and 4.85 meters respectively. The smooth installation of the converter transformer laid a solid foundation for the smooth progress of the subsequent installation work, and also played a key role in assuring the scheduled commissioning.
"Qing-Yu" UHV is the world's first UHV channel built specifically for the evacuation of clean energy, and it is also the first UHV transmission channel supporting the large-scale development and planning of new energy in Qinghai Province. Baobian Electric undertakes the task of manufacturing all of the high-end and low-end 28 converter transformers (21 low-end converter transformers and 7 high-end converter transformers) and 6 Nos. 750 kV AC transformers for the "Qing-Yu" UHV Qingnan Converter Station, which are carried out in Baobian Electric Headquarters and Qinhuangdao factory respectively. Among them, 6 high-end converters were transported on-site by road after completion of assembly in Qinghai, and the rest were transported to the converter station by rail + highway combined transportation.
The first ± 400 kV low-end converter transformer was installed and successfully put into place from April 19, and lasted for 8 days. The Baobian Electric installation team ran out of the "acceleration" of large-scale transformer installation in national major projects, and it made positive contribution for the commissioning of bipolar operation as of June 30.
Up to now, Baobian Electric has completed 13 low-end converter transformers and 6 nos. 750 kV AC transformers. In the near future, there will be many batches of large-scale transformers for the Qinghai-Henan ± 800kV UHV DC transmission project, which will be transported from Baoding and Qinhuangdao to the Qinghai project site by rail. The on-site installation of the main equipment at the Qingnan converter station of the "Qing-Yu" UHV DC project is being pushed forward in accordance with the State Grid's plan.