1000kV EHV AC Transformer for Zhangbei-Xiongan Project Finalized Full Assemble Transportation in Simulation Test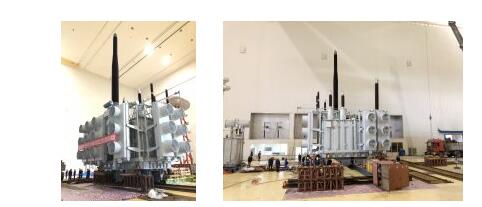 Baoding Tianwei (BTW)Qin Huangdao Factory floated the news about the 1000kV EHV AC Transformer used in Zhangbei-Xiongan Project, already finished full assemble transportation simulation test.
This successful test filled the gaps of BTW in such filed, it would be shorten the installation schedule at site, enhance the guarantee capability of substation in emergency situation, with a significance of gird maintenance in operation.
As reported from SGCC, the Zhangbei-Xiongan 1000kV EHV AC Transmission Line project is the surely- guaranteed case in Beijing 2022 Winter Olympic Games, which is the key project in "Prior to Return to Work" of Northern Hebei Province Electric Company, SGCC. BTW awarded a contract of supply 7 units 1000kV EHV AC transformer in the value of RMB 309 Million. Among of 4 units manufacture at Baoding Factory, which has 2units delivered; and other 3 units finished manufactuer at Qin Huangdao Factory, which has 2 units delivered. Fully deliver scheduled in early June 2020.