The first "Party Member" title product passed tests at one time after the resumption of BaoBian Electric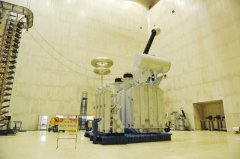 Recently, Tianwei BaoBian (Qinhuangdao) Transformer Co., Ltd. (referred to as "QinBian Company") has completed the tests of the product No. 2020 1S18 at one time since it resumed to work. This product is the 19th product produced for Wudongde Hydropower Station, and it is also a product with title of "Party Member" in QinBian Company.
Since QinBian Company resumed to work, in order to ensure the safety of personnel and normal operation of production, it has formulated relevant systems for personnel gathering, dining, temperature measuring and epidemic prevention etc. And it also formulated relevant takeholder entry registration inspection methods and resumption plan of QinBian Company. The company conducts daily anti-epidemic measures on facilities and equipment in public places and personnel gathering places in the factory. At the same time, the material information is tracked and feed backed in time to ensure that the production progress is not delayed after the resumption of work. During the production process, QinBian Company took the opportunity of the "Three Gorges Cup" theme labor competition of "becoming a good master and building a new era" to give full play to the leading role of the "Worker Pioneer" team and the leading role of "innovative experts". The operators wear masks and other labor protection protective equipment strictly in accordance with company requirements. Party members and leading cadres charge ahead, strictly in accordance with "zero doubts in design, zero defects in manufacturing, zero deviation in installation, zero delay in progress, zero non-stop operation, zero accidents, and zero complaints"in service. The "Seven Zero"goal requirements led employees to devote themselves to the manufacture of the "Party Member" product, and ultimately ensured that the product was successfully tested at one time.