[Focus on National Key Engineering Products] Baobian Electriccompleted all low-end converter transformers for Hainan Converter Station of Qingyu Project
On October 11, the last +/-200kV low-end converter transformer (spare unit) developed by Baobian Electric for the "Qinghai-Henan" UHV DC Project (referred to as "Qingyu Project") Hainan Converter Station pass the factory test under the witness of a third party. So far, Baobian Electric has completed the production of all 14 low-end converter transformers in the Hainan converter station of theQingyu Project.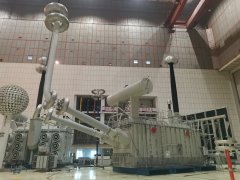 The Qingyu Project is the first UHV channel built for clean energy delivery in the country and the world. The construction of the project is expected to achieve a technological breakthrough in the long-distance transmission of large-scale renewable energy. After the project is completed, it will vigorously promote the transformation of Qinghai's energy resources advantages, comprehensively improve the development level of new energy bases in the Haixi and Hainan, promote the construction of Qinghai's clean demonstration province, and effectively alleviate the pressure of environmental pollution in the central and eastern regions, and promote the optimization of energy resources nationwide. The national energy production and fire protection revolution provide typical demonstrations.