Baoding Baobian Electric: big state-owned enterprise makes great achievements, new creation and new development
Baoding Tianwei Baobian Electric Co., Ltd. (hereinafter referred to as "Baobian Electric") is the unique manufacturer in China that can develop large-scale phase-shifting transformers. It is also the earliest manufacturer of nuclear power transformers and the most products in China, delivered more than 30 units. China's first set of technological innovations has made outstanding contributions to the construction of major national power projects such as Three Gorges Hydropower, West-East Power Transmission, UHV AC and DC Transmission, and Million Thermal Power Generation Units.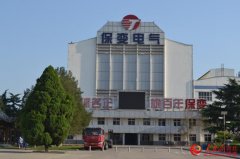 Independent innovation called "Made in China"
Baobian Electric is an old state-owned enterprise established in 1958. Through the introduction of foreign advanced technology and independent innovation from the former Soviet Union, Japan, Germany, etc., it has completely mastered the manufacturing and testing technology of UHV AC and DC products. It has developed and produced more than 20 units of the first in the world. It has played a major role in a number of national UHV major key projects, and realized the magnificent transformation of domestic UHV transmission and transformation equipment from "Made in China" to "Created in China".
Over the decades, Baobian Electric has never stopped, but through independent innovation on this basis, it has created high-energy heavy equipment, known as the "Brand of Baobian".
"Independent innovation is the soul of enterprise development and the lifeline of the equipment manufacturing industry. We want to become a world-class power transmission and transformation enterprise. Only by continuous independent innovation can we show the world the innovation capability and equipment manufacturing level of Chinese enterprises, wins glory for the motherland", said Wenhong, Chairman and CPC secretary of Baobian Electric.
Under the guidance of this kind of thinking, Baobian Electric has done its innovation work vividly in practice, so that independent innovation can play a full role in promoting the development of the enterprise.
At present, Baobian Electric has a national enterprise technology center recognized by four national ministries and commissions. The innovation system of the technology center implements vertical management, and the company-level development institutions and the technical departments of each subsidiary company are organically integrated and penetrated, and scientific research work is deepened to the front line of production and service. Now it has two provincial-level platforms: Hebei Provincial Power Transmission Industry Technology Research Institute and UHV Power Transformation Engineering Technology Research Center.
Baobian Electric has also established long-term and stable cooperative relations with more than a dozen well-known domestic universities and scientific research institutes, realizing a strong alliance between enterprises, universities and scientific research institutions. The technological innovation system that combines production, learning, and research has continuously enhanced the technological strength of the enterprise.
In addition, Baobian Electric has invested a lot of money to promote the construction of informatization in the fields of technology, management, and manufacturing, and upgrade the development level of traditional industries with information technology and network technology transformation. At the same time, it has always adhered to the internationally accepted management system, and has obtained a series of quality management system certifications. The introduction of 6S on-site management methods has greatly improved production efficiency and product quality.
After years of innovation and development, Baobian Electric has grown into a power transmission and transformation industry base in the forefront of China's transformer product varieties, core technologies, and enterprise scale. It is not only a power transmission industry base for Three Gorges Hydropower, West-East Power Transmission, UHV AC and DC transmission, and Baidu The construction of major national electric power projects such as the 10,000 thermal power unit has made outstanding contributions. At the same time, following the "Belt and Road" initiative, we have accelerated the pace of "going global", and our products have been exported to more than 50 countries and regions including France, Japan, India, Pakistan, and Indonesia. The "Baobian" brand is not only well-known domestically, but also world-renowned.
CPC building and co-construction creates "exquisite projects"
The Wudongde Hydropower Station is a huge hydropower project of tens of millions of kilowatts that has been under construction and completed and put into operation since the 18th National Congress of the Communist Party of China. The implementation of the measures is of great and far-reaching significance to promote the construction of the Yangtze River Economic Belt and the coordinated development of the regional economy, and to promote the implementation of the western development strategy in the new era.
Among them, Baobian Electric provided 38 sets of 500 kV single-phase main transformers for the 6 generator sets of the Wudongde left and right bank power stations of the Jinsha River Wudongde of the Yangtze River Three Gorges Group. During the production process, Qinbian Company (a subsidiary of Baobian Electric), which is the main transformer contractor of Wudongde Hydropower Station, established the product of the project as a "Party Member" product according to the requirements of the CPC building and joint construction activities, and issued it to all party members Call for efforts to fulfill the "seven zeros" target requirements of "zero design problems, zero manufacturing defects, zero installation deviations, zero schedule delays, zero non-stop operations, zero safety accidents, and zero service complaints", and refine the work to Every procedure, every operation detail, implement standardized operation to ensure that all products are qualified in one test. During the manufacturing process, party members are in the lead, strive for perfection, and organize production in strict accordance with the "three presses and three inspections" to ensure that all main transformers of the "CPC Member" are qualified in one test.
The No. 6 and No. 7 units of the Wudongde Hydropower Station on the Chongsha River successfully completed the 72-hour trial operation, and the first batch of units was officially put into operation for power generation. Up to now, Baobian Electric has completed the production tasks of 24 single-phase step-up transformers in Wudongde Power Station. The production and manufacturing of follow-up products are progressing in an orderly manner, and they are scheduled to be delivered by the end of October 2020.
"Over the past 20 years, from the Three Gorges, Xiangjiaba and Xiluodu hydropower stations to the Wudongde and Baihetan hydropower stations, Baobian Electric has been working closely with Three Gorges Group for a long time to contribute to the creation of one after another new era of high-quality goods." Baobian Electric Wen Hong, Chairman and Secretary of the CPC Committee, stated that Baobian Electric will rely on the construction opportunities of national key projects, continue to strengthen independent research and development capabilities in technological innovation, and continue to solve the problem of localization of key equipment and key technologies to promote green development, innovative development, and coordinated regional development for China Make greater contributions.
Take multiple measures to help "poverty alleviation"
In recent years, the Baobian Electric CPC Committee has carefully studied and implemented the important expositions of General Secretary Xi Jinping on poverty alleviation work, and actively carried out various counterpart poverty alleviation work in accordance with the requirements and deployment of the Hebei Provincial CPC Committee, the CPC committee of China South Group, and the Baoding Municipal CPC Committee. A leading group for poverty alleviation work was established with the CPC secretary and chairman as the team leader, the general manager and deputy secretary of the CPC committee as the deputy team leaders, and other team members as the team members. Several special meetings were held to study and deploy poverty alleviation work.
In February 2016, the company's CPC committee sent a village-based work team composed of three comrades to Huanglianyu Village, Beiguoyuan Township, Fuping County, the first designated poverty alleviation village. Within one year, the work team tailored to the actual situation of each household and used national policies to help villagers get rid of poverty and become rich. Helped 4 villagers apply for a loan of 200,000 yuan for beekeeping, fruit tree planting, etc.; helped professional beekeeping households to sell honey, realizing an increase of nearly 10,000 yuan in three months. In addition, it helped the village build water diversion and seepage canals, renovate mountain roads, and improve the village's infrastructure.
In March 2017, according to the arrangement, Baobian Electric's poverty alleviation point was adjusted to Caichi Village, a deep poverty alleviation village. The task team reversed its mission and spared no effort to help Caichi Village achieve poverty alleviation.
Caichi Village is located in Xiazhuang Township, Fuping County. It has jurisdiction over 20 natural villages with a total area of 39.6 square kilometers, 1,467 mu of arable land, 52,400 mu of barren woodland, and a forest coverage rate of 60%. The total population of the village is 713 households with 2067 people. In 2014, 542 households with 1,484 persons were registered and registered, and the poverty incidence rate was 71.8%.
In order to ensure that poverty is eliminated on schedule, the village task force earnestly implements the national poverty alleviation policy, focusing on the core of increasing farmers' income, and at the same time combining safe drinking water, road construction, remote poverty alleviation and relocation, dilapidated building renovation, education, health, etc., to carry out targeted poverty alleviation jobs.
As of June 2020, the poverty incidence rate in Caichi Village has dropped from 71.8% to zero. The village's per capita annual income has reached 9,100 yuan, and the per capita annual income of poor households has reached 7,200 yuan. Basic medical care and housing security are guaranteed, and the criteria for exiting poor households and listing from poor villages are met.